Joined

Oct 8, 2018
Messages

19
Location
OK... so I recently purchased a new (to me) Tenere.
My first ride was a 6 hour roundabout from way south of Houston to DFW.
By the time I got home, my wrists were cramping and my hands were buzzing... and that was even after using a crampbuster that I brought with me. I'm figuring it was because of the narrow grips and the 50/50 Heidenau's.
I've done thousand mile days on the Goldwing with no wrist discomfort, but I have the Grip Puppies on that bike which makes the grips a bit larger in diameter without hurting the heat transference.
The new Tenere has the awesome Oxford Heated Grips, so I wasn't about to take those off to put new thicker grips on. I debated about the Grip Puppies but wasn't really sure they would hold up as well on an ADV bike and I wanted to ensure I'd be gripping firmly without slipping in situations where I needed it (standing up over rough terrain, for example).
Here's what they look like:
Another option that folks on the ADV forums were going after was the
Grip Buddies
, originally called "Beemer Buddies". These are a wrap around option that uses a slip of tape and velcro to hold the overgrip in place. Some reviews I found said they wore out quicker than they wanted, and that the seam sometimes bothered them.
Here's what they look like: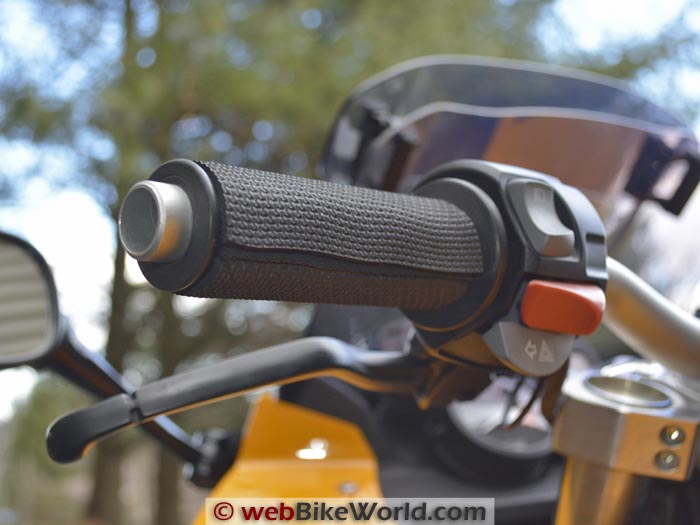 Alrighty... in digging deeper into the dark world of motorcycle forums for my research, I found a guy who mentioned that he increased his grip size with a product called "Re-Grips". They are designed for re-gripping hand tools & such, but he adopted them to his motorcycle grips with success. Sooooo... I thought I'd give it a try too. They were cheaper than the Grip Buddies anyway, and I liked the clean look of his install.
So... I ordered a set of
Re-Grips
from
Amazon
, they arrived today, and in less than 5 minutes total, I had fully re-gripped my Tenere with thicker, vibration resistant grips. After riding around a bit with them installed... I'm extremely satisfied. The "Yellow" ones are a perfect fit for most motorcycle handlebar grips.
Here's how easy it was to re-grip... hardest part was the first 20 seconds just making sure I was lined up, then... about 20 seconds later, you're done:
Before:
After you install it... a tip is to put a hose clamp on the end, and slice around it with a razor blade for a perfect trim.
Like so...
End look...
Soooo... for around $20, I don't think you can go wrong with these. I really liked the way they turned out too. Very grippy, thicker than stock, heat transfers through, and helps decrease vibration. If they ever wear out... it's super easy to throw a new one on.
Hope this helps those who are looking for new or thicker grips and don't want to spend the time and effort slicing off old grips (especially if dealing with heated grips).